I just moved into a new home and have had the pleasure of starting fresh with some completely new decor ideas. I've been scoping magazines, websites, other blogs, and Nestie bios for ideas. Nothing has been more influential & inspirational than the cute couple at www.thisyounghouse.com, John & Sherry's awesome ranch in Richmond, VA. Their window treatments, paint color choices, floating shelves, and artwork have truly inspired my new decor.
My house came with some nice wooden blinds that were probably brand new in my living room, but not necessarily my favorite choice. I was definitely going to put curtains up, but when I saw John & Sherry's "bamboo shade w/ white curtain look" I just HAD to do it, ahem copy it! How many American ladies have put this look into their homes after seeing John & Sherry do it so artfully in their own homes? Windows all across the country thank you!!!
Here is John & Sherry's Living room that served as inspiration: (photo from www.thisyounghouse.com)
Here is my before: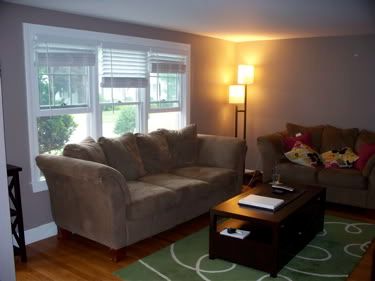 Here is my after!
**Nevermind the clutter on the coffee table, etc. I was too excited to photograph the scene to clean up & tidy before taking the pic! Also, my kitty is the black & white bump on the top of the couch. He was a great help!
Where is all of that stuff from?
Bamboo Shades: Lowe's ($17.97 eachl Two 48 inches shades side-by-side)
Faux Silk Panels: Bed, Bath & Beyond ($39.99 each w/ 20% off coupons for each one!)
Curtain Rod: Lowe's ($39.97)
Curtain Rod Rings: Lowe's ($9.97 each; 2 packages)
Pillows: Crate & Barrel ($36.99 each)
Area Rug: Pottery Barn (On Ebay)